A Message from our President: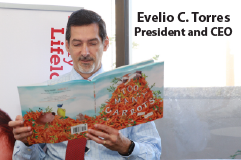 Dear Friends:

In July we will see the Florida Office of Early Learning (OEL) deploy their new and much improved state-wide data system.  The new system is designed to streamline the eligibility process for parents and the payment and contracting process for providers.  The major programs; School Readiness and VPK, as well as provider payments and contracts are all web-based and accessible via internet, 24 hours a day, seven days a week.  The system will launch July 2.

The Early Learning Coalition has launched a new website with a new look and feel, is very user friendly and has greater adaptability for use with mobile phones and other mobile devices. Our website address is unchanged and still accessible at:  www.elcmdm.org.

The Neighborhood Place for Early Head Start is currently accepting application for the Early Head Start Program.  Families with children younger than age 3 can apply by visiting here.

Save the Dates now for our Children First Conferences!  The Monroe conference will take place Saturday, September 22, 2018 in Key West.  The Miami-Dade conference is scheduled for November 30 and December 1, 2018 at Miami Dade College North Campus.  Both conferences will feature presenters and panelists who are experts in diverse areas including early childhood education, resiliency, and much more.  If you or someone you know would like to be a presenter at the Miami-Dade conference, please submit your proposal at:  https://t.co/oAF1jHAYGt
As always, we thank you for your partnership and encourage you to follow us on Facebook , Twitter  and  Instagram up-to-date information on the new quality improvement system, our programs and events. 
Evelio Torres
President and CEO